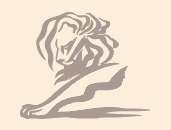 "Can you tame the Lion?"
Sebelum berangkat, pikiran yang gue punya adalah "Ah... paling acara biasa. Ketemu-ketemu temen... cari-cari kerjaan baru... terus nonton pemenang (yang notabene juga udah bisa dilihat di websitenya Cannes Lions)". Well... more or less lah. Tapi ada satu hal yang bisa gw garis bawahi. Yaitu saat seorang pembicara (bule; gw lupa namanya) sharing pengalaman dia. Menurut dia kondisi yang kita hadapi di sini, nggak beda jauh dengan kondisi di negara lain.
Gue jadi teringat dengan beberapa referensi yang gw dapat. Michael Newman dalam buku Creative Leapsnya bilang, dia ngebagi kerjaan dalam 2 jenis: Cannes or Can't. Maksudnya jelas lah hay. Dalam diskusi "Why Thai" yang merupakan rangkaian program AdDone juga si pembuat iklan Sokken bilang "I don't have the answer" saat ditanya gimana caranya ngejual ide keren supaya bisa dibeli sama client. Pada sebuah obrolan ringan di bulan puasa, pemilik agency Astana (dia juga pernah menang award international) bilang... "Gampang kok kalau mau menang award".
Kalo diliat-liat kok ya buntut2nya semua permasalahan kembali pada satu muara: us, ourself. Bisa nggaknya kita menang di Cannes, Clio, One Show, Adfest ya tergantung kita. Bahwa hambatan terbesar kita untuk menang adalah karena kita belum mampu mengalahkan diri sendiri. I'm my own enemy. Sebelum bisa mengalahkan hal lain, kita harus bisa mengalahkan diri sendiri terlebih dahulu. Harus bisa melawan rasa cepat puas, menentang rasa takut untuk berbeda, mematikan kekhawatiran akan kegagalan.
"Creative people did silly mistakes oftenly" gitu kata si bule di acara tadi. We believe that but yet we still have less courage to be different nor to make mistakes. We are so afraid to be perceived as stupid person. Mental kita cenderung mencari jalan tengah. Jalan kompromi. Jalan yang bisa diterima oleh semua pihak. Padahal di situ letak kesalahan terbesar. Being outstanding means getting at the edge and to push as far as possible. Getting at a certain point where the choice is success or failure. There's no such "so so" condition.
Therefore the question should be change into "Do we dare to tame the Lion or not?". It is simply a matter of courage and strong will. Not capability. So let's buckle up and get our stuff to tame the Lion. It's now or never!